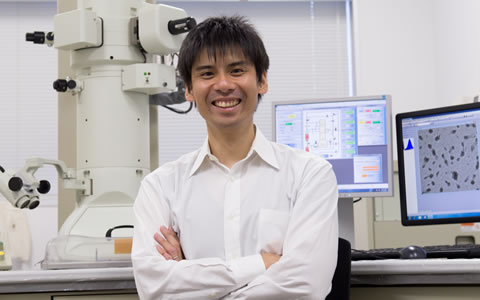 Lecture Dr. Soichiro Ogi
Phone: +81-52-789-5750
E-mail: ogi.soichirochem.nagoya-u.ac.jp

Soichiro Ogi received his M. Eng. in 2008 from Kyushu University under the supervision of Professor Seiji Shinkai and received his Dr. Eng. from University of Tsukuba in 2011 under the supervision of Professor Masayuki Takeuchi. His doctoral research topics focused on the development of synthetic molecular gears and FRET-based mechanochromic elastomers. During 2011–2013 he worked as a postdoctoral fellow in the Organic Materials Group, National Institute for Materials Science, where he studied on living supramolecular polymerization. He joined the group of Frank Würthner at the University of Würzburg as a JSPS postdoctoral fellow in 2014. Since 2016 he has been an assistant professor at Nagoya University. Dr. Ogi's research interests include the materials chemistry on the basis of supramolecular chemistry. Making use of folding and aggregation properties of amino-acid-based diamides, he has so far established seed-initiated supramolecular polymerization of π-conjugated molecules, which is an attractive method for development of supramolecular architectures and materials with advanced photo/electronic functions.
Awards
Student Presentation Award in CSJ Annual Meeting (2009)
Student Poster Award in PACIFICHEM (2010)
CEMS Rising Star Award in CEMS International Symposium on Supramolecular Chemistry and Functional Materials (2013)
JSPS Travel Grant for Attending Lindau Meetings (2015)
The Mitsubishi Chemical Award in Synthetic Organic Chemistry (2018)
Representative publications
Seeded Polymerization of an Amide-Functionalized Diketopyrrolopyrrole Dye in Aqueous Media
S. Ogi, N. Fukaya, Arifin, B. B. Skjelstad, Y. Hijikata, S. Yamaguchi
Chem. Eur. J., 25, 7303-7307 (2019).
Seeded Polymerization through the Interplay of Folding and Aggregation of an Amino-Acid-based Diamide
S. Ogi, K. Matsumoto, S. Yamaguchi
Angew. Chem. Int. Ed., 57, 2339-2343 (2018).
Pathway complexity in the self-assembly of a zinc chlorin model system of natural bacteriochlorophyll J-aggregates
S. Ogi, C. Grzeszkiewicz, F. Würthner
Chem. Sci., 9, 2768-2773 (2018).
Mechanism of Self-Assembly Process and Seeded Supramolecular Polymerization of Perylene Bisimide Organogelator
S. Ogi, V. Stepanenko, K. Sugiyasu, M. Takeuchi, F. Würthner
J. Am. Chem. Soc., 137, 3300-3307 (2015).
Living supramolecular polymerization realized through a biomimetic approach
S. Ogi, K. Sugiyasu, S. Manna, S. Samitsu, M. Takeuchi
Nat. Chem., 6, 188-195 (2014).